Description
C-140-4 tetrahedron holographic pyramid:
The holographic box is a very attractive 3D device that actually simulates the same hologram and fulfills your fantasy dreams that you only saw in Hollywood movies. Your products start to rotate in 3D and virtual in the air.
C-140-4 four-sided holographic pyramid:
This quadrilateral pyramid model in large size to display products with more details and 3D capability, due to its quadrilateral design, attracts more visitors at the same time. This model of the device is very suitable for use in showrooms and exhibitions due to its four-sidedness and large image display, and it attracts the audience quickly.
In this model, four images are connected by a small computer, and it can be played through a mobile phone or tablet, and different selected images can be displayed for customers.
Dimensions and sizes of the C-140-4 holographic pyramid:
The size of the image in this pyramid is 31 x 61 cm on each side.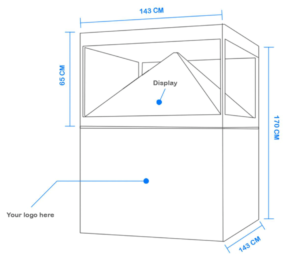 Parts and equipment:
4 24-inch TVs
4 to 1 switch
A small computer with the ability to connect to mobile phones and Wi-Fi
Metal kiosk
Holographic display
LED
Application of holographic pyramid:
Introduction of products
For information and warnings
Introduction and special effects
Creating a holographic atmosphere in the ceremony
Suitable places for the pyramid:
Stores and shops as a virtual showcase
Restaurants, airports
Cinema and theater halls
Hospitals and laboratories
High traffic places, arcades and big malls
Exhibitions, seminars and conferences